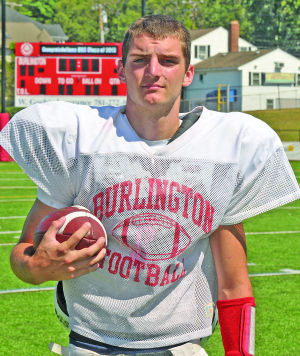 Photo credit: Daily Times Chronicle
Congratulations to Shane Farley who recently was selected for the Boston Globe's Richard Phelps Scholar-Athlete Award for
District B. This award comes with a
$3,000 for Shane for college.
Shane's athletic accomplishments speak for themselves: He was named captain of both the Football and Basketball teams. In football Shane was a 3 year starter and is one of only 7 players (and the only quarterback) in school history to earn a varsity letter in his freshman year. This past year Shane threw for 2,000 + yards and 22 touchdowns (a school record), was named he was a Middlesex League All Star, and was the Woburn Daily Times Player of the Year runner up. In basketball Shane was a 3 year starter and scored 1,249 points over his career. Shane holds the school record for most points in a game (50), was named the MIddlesex League Freedom Division MVP, a Boston Herald All Scholastic, the Woburn Daily Times Player of the Year, and selected for the Massachusetts Basketball Coaches Association North Sectional All Star Team.
Shane has also been a high performing student in the classroom. Shane has enrolled in a mix of honors, AP, and college prep courses. His focus and commitment to his academics have led to him great success in the classroom and his body of work shows his desire to step outside the box and learn across many different areas.
Congratulations again to Shane on this well deserved award and best of luck to him as he brings his athletic and academic abilities to WPI next year.