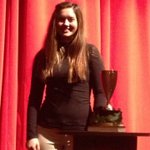 Saturday, in the Poetry Out Loud semifinals, Junior Allie Hardy advanced to become one of only 20 state finalists remaining in the statewide competition. Allie performed her two poems, Sweetness by Stephen Dunne and These Poems, She Said by Robert Bringhurst, and was one of five of the 17 semifinalists from her region to advance to the finals. Allie will now memorize a third poem and will compete on Sunday in the Massachusetts finals.
This is the first time in three years that the BHS champion has moved on to the state finals. And this year in Massachusetts, over 20,000 students participated in Poetry Out Loud, which means that the finalists represent less than .1% of the original pool of competitors.
In the finals, the group of 20 will be whittled down to a final six after they recite their first two poems. The final round of six competitors will determine the Massachusetts champion.
The Massachusetts finals will be held at the Old South Meeting House on Sunday, March 10th at 9:30 AM.