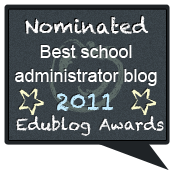 Today is the last day to
vote for the top school administrator's blog for the 2011 Edublog Awards
. As so many others have noted, the best part of this awards program is that it allows those who are interested an opportunity to learn about other great educator blogger and the incredible work they are sharing. I have been personally impacted by the great work of George Couros, Lyn Hilt, Chris Wejr, and Eric Sheninger. In addition, I am an avid follower of the following administrator blogs: David Truss, Jeff Delp, Chris Kennedy, Rabbi Akevy Greenblatt, and J. Robinson.
I look forward to broadening my perspective in 2012 after adding the rest of the nominees to my rss feed and I encourage you to do the same. To make this easy,
I have created a bundle of all 22 nominated blogs here
so that you can follow them all in one click if you use Google Reader.